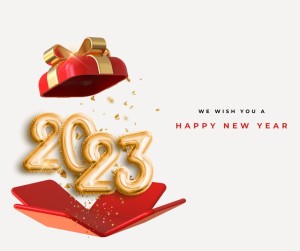 January 1-New Year's Day
January 16-Martin Luther King Jr. Day
Do you smell that? No, not your holiday leftovers. It's the smell of new opportunities! The Advanced Roofing crew is back this year better than ever and eager to tackle 2023 with gusto.
Speaking of new things. It's time to set new goals. Mine usually involve eating more veggies and running more miles, though this year, I may include reading more fun books. Do you know what's also fun? New roofs. If you need a new roof and the cost has you holding off, maybe it's time to make 2023 your year for a new roof. Here is how to make it affordable.
Insurance- Call Advanced Roofing for an estimate and to see if you have hail damage. With all the storms we experience in this area, chances are that you may have hail damage that can be covered by your insurance.
Savings- If you don't have hail damage, but need a new roof, it may be time to dip into your savings or start saving a bit each month. Another option is to downgrade from an architectural to a 3-tab shingle. You can also choose to do an overlay instead of a complete re-roof. While an overlay is not recommended, it can save you money.
Financing- If your roof is too far gone and can't wait any longer, Advanced Roofing offers financing available through our Wells Fargo Program. We offer a variety of programs that can fit your needs.
As you can see, this new roof goal is quite attainable and less painful than running marathons.
If you are finally ready to get a new roof, give us a call. With over 30 years of roofing experience, Advanced Roofing can be trusted with all your roofing needs. Call the roofing professionals today at 903-759-9298 .
From the roofing experts at Advanced Roofing Services, we wish you a Happy and prosperous New Year.
Thank you,
Rocio Mendez
Business Manager
P.S. Book Recommendation: The Love Prescription by John and Julie Gottman.
I
---